Travel Medical Insurance For Seniors, Snowbirds, Retirees, Parents...
Are you a snowbird traveller seeking fun in the sun?
Don't get burned! Make sure that the insurance you buy offers solid coverage!
We've got Canada's #1 selection of travel insurance companies offering plans specifically for seniors, snowbirds, retirees, tour groups or elderly travelers, AND we offer personalized guidance and advice to ensure you obtain solid coverage at the right price.
Whether you have a more complicated medical history and need help to navigate through the various medical questionnaires - or (if it's better) to avoid the questionnaires altogether; or, whether you need to find a policy with a short (as low as seven days) stability period - or get a discount for perfect health - we've got Canada's best policies...and the best prices.
Travel insurance prices have been increasing due to the lower Canadian dollar, especially for senior travellers.

Recent rate increases make our quick online comparisons and advice even more relevant than before. Keep in mind that the policy that worked well last year may not be the wisest choice this year (or next) depending on the size of the rate adjustment, the age bracket the company uses, or changes to your health. Over the last year, we've also added new policies that use different age brackets - so it's possible that you will remain in the lower priced age bracket with one company, while the others have bumped you into the next higher priced group - even if you are in perfect health.
Now, the cost savings are even greater when you are able to find that one policy that:
won't change rates until December; or
doesn't round you into the next higher age bracket until 62,67,72,77,82 or 87; or
does not ask about the relatively minor condition that you have - like osteoporosis, or high cholesterol, or a stent more than 10 years ago; or
only asks if you take '3 or more medications' for high blood pressure.
We have policies that:
can help you avoid higher rate classes - by choosing not to insure a medical condition; 
allow you to shorten the stability period to 7, 30 or 90 days; 
can provide a 20% discount if you decide not to have coverage for stable pre-existing medical conditions; 
allow you to waive all pre-existing conditions language altogether - for extra peace of mind; and 
offer deeper discounts for using a higher deductible.
All these can be found here online, but sometimes, it's just easier to call us and let us help you personally. Call us at 1-888-888-0510 for assistance.
Medical questionnaires
Many companies require travelers over age 54 to answer a medical questionnaire prior to purchase. If you are aged 55-59 though (or travelling less than 31 days under age 79), it may be better to simply buy a different policy that doesn't ask any medical questions.
On our website, once you complete the quote request form to ask for a quote:
you will be shown a selection of policies that you can choose from, and what they cost based on 'perfect health'.
If the policy is marked by a blue 'Purchase' button, no medical questionnaire is required, and the policy may be purchased by proceeding through our secure, encrypted, Payment Card Industry compliant check-out process. 
If the policy is marked with a red 'Answer Medical' button - you will need to click to open the questionnaire. Once complete, you will be returned to the quote page where the price has been refreshed with the blue 'Purchase' button. 
Usually, answering the three questionnaires that first appear to be 'lower priced', will result in finding the lower priced policy. But that is not always the case if you have a more complex medical condition. In that event, we encourage you to call us, because we can usually sort through the list of questionnaires much faster than you can to find the best result. 
Tip: Not all medical questionnaires are the same, and different companies assess medical risk differently. So just because one company wants to put you in a higher risk class, two or three of the other companies may not. If you need to look around for a competitive offer, you can answer more questionnaires to determine the best price for the deductible level you prefer.
Tip: For seniors going away for only a short trip (30 days or less) there are some plans that are offered that do not require answering a medical questionnaire (ages 60-79). By planning a shorter trip you can still travel with insurance for stable (90 days) pre-existing conditions and also be covered for other unexpected illnesses or injuries. 
Tip: Seniors may be able to find the travel health insurance they want by purchasing an all-inclusive travel insurance package that doesn't require answering a medical questionnaire. A package plan will come with trip cancellation and trip interruption insurance, as well as baggage insurance and some accidental death and dismemberment coverage, but it may still prove to be cheaper or offer better coverage for pre-existing conditions than a policy requiring a medical questionnaire.
Tip: Ask us!!! We've built this online database to be useful - as a tool for us to help look quickly through the options available to you, and to guide you towards a good policy. It may appear to be complex, as we have a lot of policies to choose from. We are specialized travel insurance brokers that know what to look out for, and we know how to use our site better than anyone else - our advice is free, and can prove invaluable at claim time. So don't hesitate to call or to email us your questions. We really can be helpful. Even more so - if you ask for the help.



Click the following links for more information on:
covering pre-existing conditions,

frequently asked questions for Canadians,

common questions about medical issues.

Travel medical insurance for seniors via bestquotetravelinsurance.ca
When you get a quote from us to find out more about your travel insurance choices, you'll be presented with an interactive quote presentation like the one below for emergency medical insurance: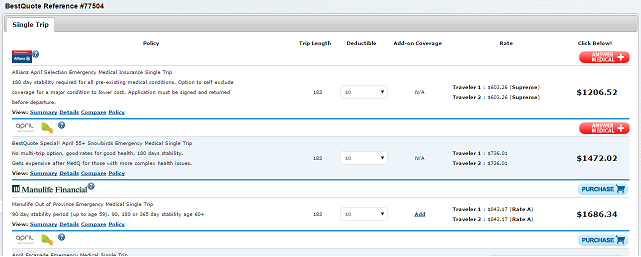 On this quote, you can notice that  some of the policies require a medical questionnaire to be answered before purchase, while others do not.
All the policies initially appear with a $zero deductible, although you can choose a higher deductible to reduce the premium (if you choose a $500 deductible for instance, the premium will be 10-15% lower, but you would have to pay the first $500 of any claim).
When a medical questionnaire is required, we start by quoting what that policy will cost based on perfect health. If you click on the red 'Answer Medical' button, you will be asked a series of medical questions which will then allow your quoted premium to be adjusted higher if your answers indicate a higher health risk. Once adjusted, the blue 'Buy Now' button will appear, indicating that you can continue with your purchase request.
Below each company's logo is the policy's Summary and the entire Policy wording to download and review. The Summary will help you glance at the exact details quickly, and we recommend you download and read the policy wording prior to purchase.
We try to be informative on this site to help guide your purchase decision. While complete self-sevice is possible, we do recommend that you call us once you have asked for a quote, so that we can review the options with you to ensure you find the right policy. When you have any questions, or need some help with your purchase, please call us toll-free at 1-888-888-0510. We'll be glad to help.

Our Rating
4.7/5 based on a total of 534 votes